2019-2020 season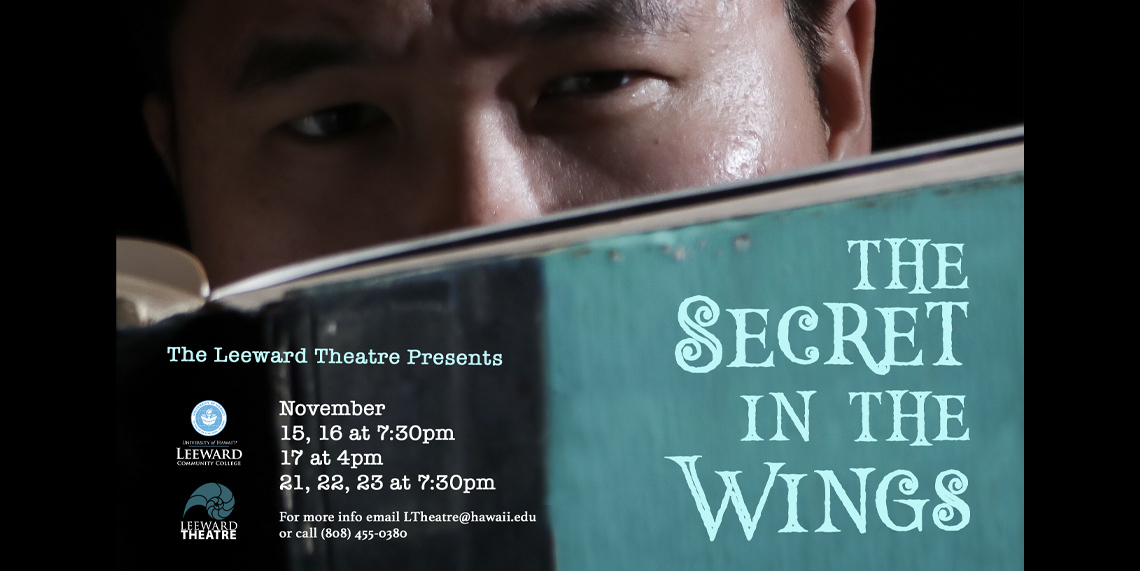 A little girl named Kris10 has been left with a mysterious Neighbor for the evening. With rising horror, we listen as the Neighbor regales Kris10 with fairy tales that grow darker and darker… and we watch as his terrifying characters come to life…
…and then we notice that the Neighbor has a tail.
In The Secret in the Wings, Tony-winning playwright Mary Zimmerman adapts a collection of lesser-known fairy tales for a theatrical work that sets their shadowy mystery against her signature wit and humor...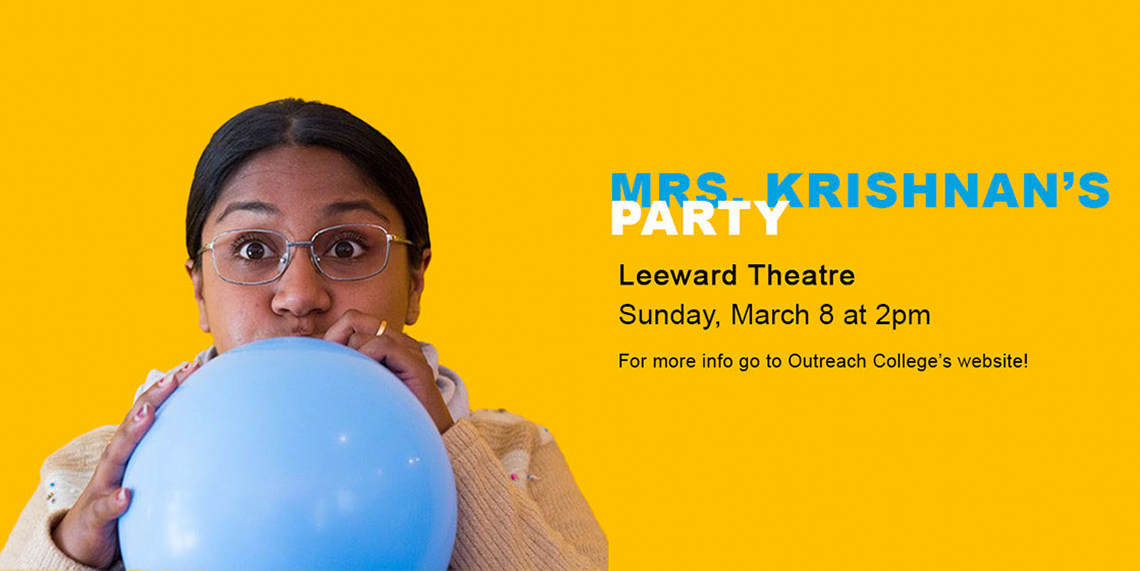 Award-winning New Zealand based Indian Ink Theatre Companyreturns to Honolulu with a production of Mrs. Krishnan's Party and you're invited! 
Step into the back room of Mrs. Krishnan's dairy where garlands decorate the ceiling, music flows and Mrs. Krishnan is throwing a party like no other. Food simmers on the stove, laughter abounds and strangers become friends in this joyous celebration of life.
"Mrs Krishnan's Party is a triumph of both interactive theatre and human spirit." -Sarah Kidd, reviewer
Indian Ink Theatre Company is one of New Zealand's most successful theatre companies with a reputation for "total theatre which offers humanity and psychological insight in a package of good plain laughs, luminous performances and brilliant staging" (Dominion Post, NZ).
For almost two decades Jacob Rajan and Justin Lewis have pursued their idea of the 'Serious Laugh'- opening mouths with laughter in order to slip something serious in along with a love of mask and story. The company blends western theatrical traditions with eastern flavours and has been critically acclaimed for its use of live music, heightened theatricality, humour, pathos and great storytelling.
---
past seasons
2018-2019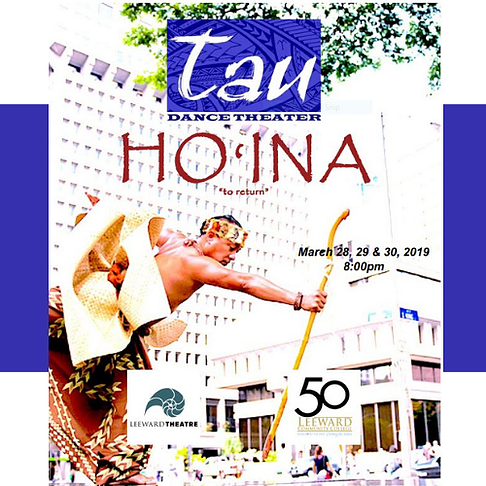 HO`INA, translated from `oleo Hawaii, refers to "one's returning," articulating the theme of the evening. Join artist in residence Peter Rockford Espiritu and Tau Dance Theater bringing together an enchanting night of dance, music, and performance art. Tau Dance Theater presents its first Hawai`i production in 7 years featuring singers, Melveen Leed, Starr Kalahiki, and Mahi`ai Kekumu, with aerialist Andrea Torres at the newly renovated Leeward Theatre.
A play by Lee Cataluna
Leeward Lab Theatre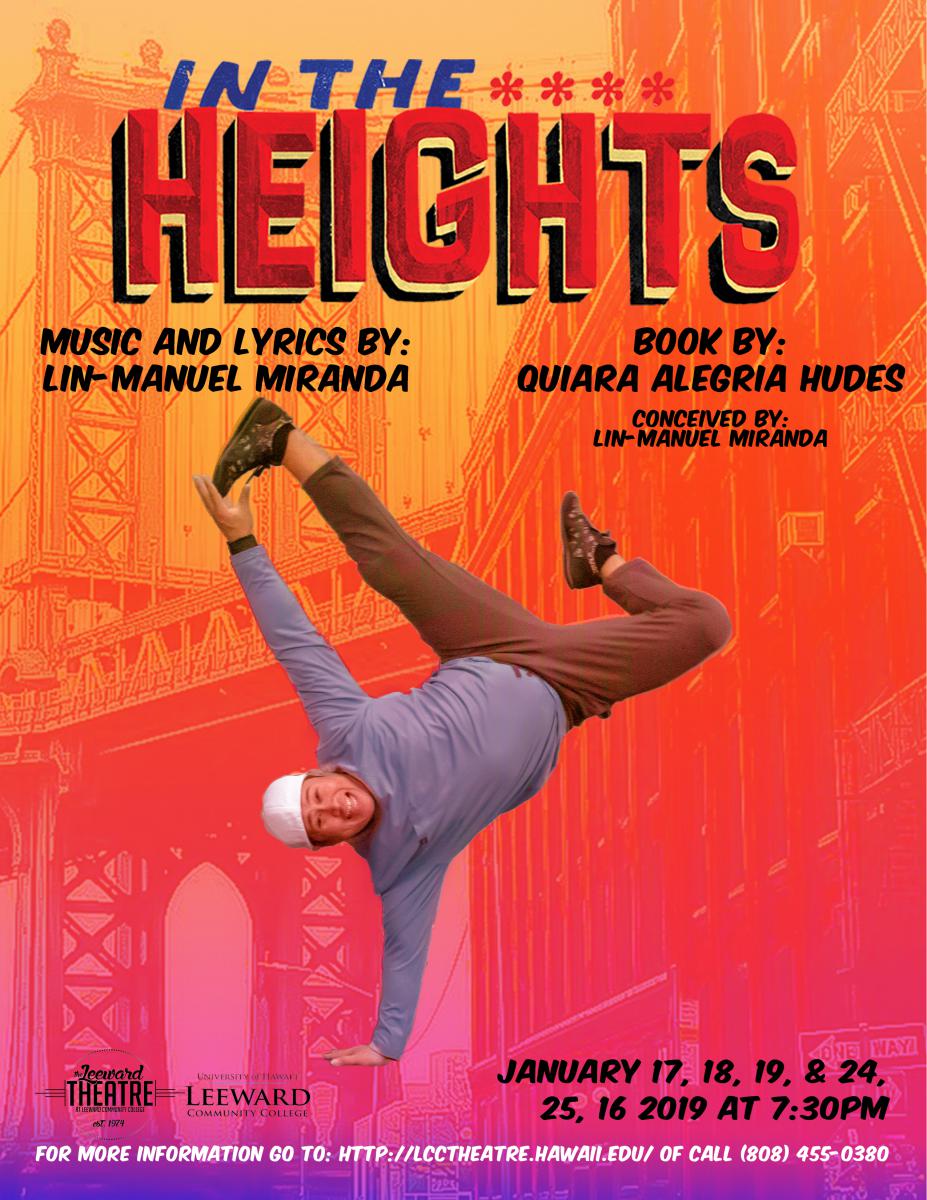 The Leeward Theatre is Proud to celebrate our GRAND REOPENING by presenting
the Tony Award Winning Broadway Musical; In The Heights!
After a massive two-year renovation project, The Leeward Theatre at Leeward Community College will reopen its doors in January with an exciting new production of Lin-Manuel Miranda's Tony Award-winning musical IN THE HEIGHTS.
"Our theatre has been updated with wonderful technologies, comforts, and conveniences, including new lighting and sound system, new seating and greater ADA accessibility," says theatre manager Chris Patrinos. "We look forward to sharing our renovated space, all-new box office, and new concessions booth with our community."
IN THE HEIGHTS
Music and Lyrics by Lin-Manuel Miranda | Book by Quiara Alegría Hudes | Conceived By Lin-Manuel Miranda
IN THE HEIGHTS tells the universal story of a vibrant community in New York's Washington Heights neighborhood – a place where the coffee from the corner bodega is light and sweet, the windows are always open and the breeze carries the rhythm of three generations of music. It's a community on the brink of change, full of hopes, dreams and pressures, where the biggest struggles can be deciding which traditions you take with you, and which ones you leave behind. IN THE HEIGHTS is the winner of the 2008 Tony Awards for Best Musical, Best Score, Best Choreography and Best Orchestrations.
An exuberant, animated shrine to the importance of family ties and being faithful to where you come from."
— Ben Brantley, The New York Times
The Leeward Theatre is proud to announce the cast of IN THE HEIGHTS:
USNAVI DE LA VEGA - Sterling Beair
NINA ROSARIO - Kimie Fujioka
KEVIN ROSARIO - Devon Nekoba
CAMILA ROSARIO - Jade Stice
BENNY - Darian Aquino
VANESSA - Melani Carrie
SONNY - Jay Laeno
ABUELA CLAUDIA - Juvy Lucina
DANIELA - Ixchel Samaniego
CARLA - Aurielle Polynice
GRAFFITI PETE - Angelo Osay
PIRAGÜERO (PIRAGUA GUY) - Moku Durant
ENSEMBLE - Averilee Adkins, Liana Burke, Jarica Mae Abella, Nani Marcos, Kira Moriguchi, Brandee Doi, Alanna Poelzing, Nisa Gaupet, Keanu Roe, Alden Bunag, Sean Kaya, Sean Nelson, Theoren Nansen, Geph Albo 
TICKETS ARE ON SALE NOW! Performances will be January 17, 18, 19, 24, 25, and 26 at 7:30 pm.
2015-2016
Featuring the Leeward Community College Hawaiian Ensemble
Directed by John Signor